Throughout the year, we at GuardsPro launched new ways to let you start operating your security guard company by streamlining your security guard operations. And as GuardsPro guard tour system scaled and evolved to help you stay more connected while sharing data across multiple channels seamlessly in real-time, so did our community. 
With robust new modules, enhanced new features, and various improvements to automation, you now have even more opportunities. Sign up for a 30-day free trial if you already don't have an account to experience it by trying it out yourself. Now let's look back at some of the landmark changes to our security guard management platform.
Redesigned GuardsPro Guard Tour System
We completely reinvented GuardsPro guard tour system from the ground up. It got a brand new design that made navigating easy and data more accessible. It's now hosted in a robust cloud system that makes it faster, highly responsive, available, and secure with a focus on improving user experience.
Back-Office Dashboard Updates: Brand New Modules Highlights
Analytics: A brand new analytics module was introduced for schedule, reports, and invoicer. It's designed to help you evaluate crucial data graphically and make informed decisions quickly.
Security Team: GuardsPro back-office dashboard now gives you the option to add back-office team members along with security guards under the menu called security teams. You can keep detailed profiles of the back-office users by adding notes to the profile and easily view the logs and give them access to the system.
Vehicle Patrol: Next we have a brand new addition to the GuardsPro guard tour system – vehicle patrol module. It is divided into 2 sub-menus – vehicles and routes.
Vehicles – You can add and edit vehicle details – the year of build, make, model, license plate, collar, notes, and description as well as add them to specific categories, and view the current status of the vehicle online.
Routes – It allows you to define new routes for vehicle patrol guards on duty. Using it, you can add a date, start/end time, include multiple post sites, the number of hits to be made, their duration, and assign a guard and vehicle for the patrol. To further simplify the process, we've enabled the drag and drop post site feature in the vehicle patrol route.
GuardsPro now provides you the option to create a schedule right after creating a route for guards to patrol.

You now also have the ability to enable or disable syncing hits setting between guards on the same post site along with many more.

Duplicate routes with the same from and to dates and months but in the future. For instance, if you duplicate the route from Nov 1st, 2022 to May 1st, 2023, the time period for the new duplicated route will be from May 2nd, 2023 to Nov 1st, 2023.
Back-Office Dashboard Updates: A Whole New Experience 
Reports: The new updates in this module allow the users to edit and delete check-in/out entries including map longitude/latitude coordinates. In the check-in/out report, users can also view what type of check-in and check-outs there are, whether vehicle patrol or standard. We have now added comments features.
The back-office users can now add comments and mention each other throughout the system. When a user mentions another user, the user is notified about it on the activity page with a brief message and a link to go to that comment.
You now also have the ability to flag reports and notify users hassle-free.
Vehicle Report:

 You can edit the client portal access from the GuardsPro back-office dashboard and disable or enable your clients to view vehicle reports from anywhere and anytime logging into their client portal.

Check/Clock In and Out Reports:

 Adding check-in/out reports have been made optional, and so have clock-in/out reports while adding a time log entry in time clock and in attendance.

Time Clock/Payroll Hours By Report:

 Hours by report is a great way to find client, post site, skill set, and department-specific data at your fingertips. It is now available under the time clock/payroll with the ability to export these reports.

Daily Activity Report: 

Now you can have the system auto-email reports weekly and allow users to select incident and standard reports of a post site.
Scheduler: The new scheduler has been redesigned for a better user experience. Now it also allows the admins and managers to view the schedule in daily and weekly format by choosing post site or guards, instead of in the form of lists. 
While scheduler settings automatically allow assigning and confirming an open shift for the first guard who accepts the shift.

GuardsPro scheduler

 now also includes Exchange Shift. It enables security guards to request the admin to exchange shifts or pass them to another guard.
Deep Linking: We've inserted deep linking in email notifications for all user types so that you can be directed to a specific page instead of a login page of GuardsPro.
Guard Setting: New changes in the guard setting now allow security guards to view other guards submitted reports in real-time, geofence settings allow guards to clock out outside geofence, disable guards from creating new groups or individual chats, and a setting to force guards to follow vehicle patrol routes.
Dark Mode: Your back-office users can now change their back-office dashboard's setting to dark mode as per their requirements.
Company Settings: You can now provide a description in license type. The users can also now decide which format to choose from – 12 hours or 24 hours. As well as you can define multiple tax types under company settings.
Payroll: You can now delete all past payrolls or a specific past payroll of a guard. Now users can go to the past individual payroll entries and easily edit them.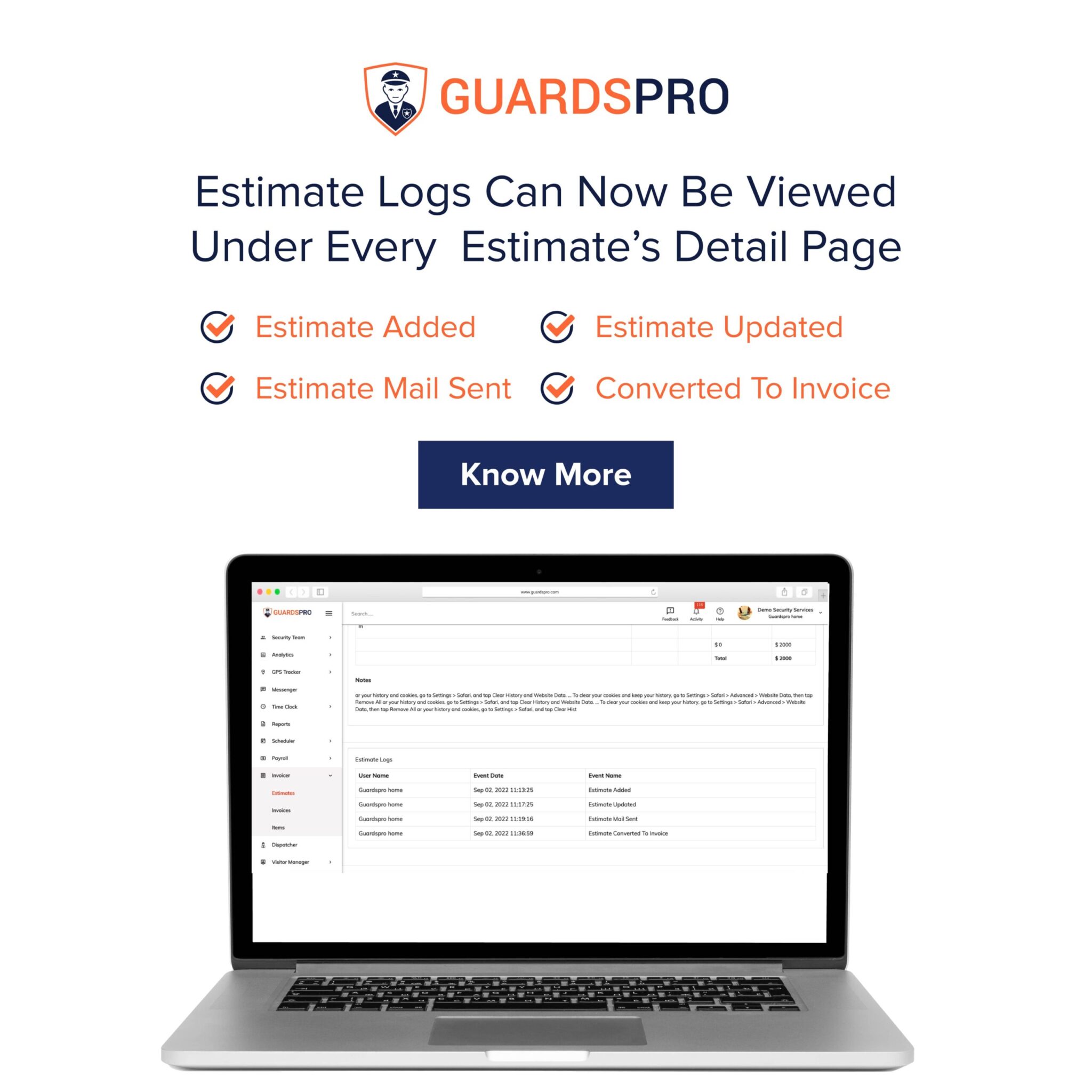 Invoicer: There is a new menu called Item where a user can define an item as taxable or non-taxable under GuardsPro Invoicer. All back-office users can also edit the description of Item in both invoices and estimates.

Estimate logs such as estimate added, estimate sent, viewed by client, etc. are added under every estimate's detail page.

Invoices logs such as invoice added invoice sent, payment received, etc. are added under every invoice's detail page.
Messenger: Now while adding users in a group of all users, you can view all users instead of only guards. The new update also allows the admin to delete user groups and gives permission to the users to delete groups created by them.
Time Log: Users can now add comments in time log entries and attendance time log entries for better clarity.
Post Order: Now you can assign post orders to all or specific guards and back-office users can effortlessly download PDFs of post orders and print them as and when needed.
Policies & Docs: Users can similarly download PDFs of policies & docs and print them as and when needed.
Files And Attachments: You can now download every file and attachment added throughout the system.
Improved Security: GuardsPro has upgraded its security by adding 2-step authentication for back-office users.
Back-Office Users: In order to keep GuardsPro competitive, cost-effective, and to make sure to provide a unique user experience with excellent customer support, we will be counting the number of back-office users against the total number of users including the guards.
Quick Setup Section: To easily get started with GuardsPro guard tour system, we have added a quick setup for you under the help section. Do check it out now if you are just getting started.
Under it, you'll also find access to the help center's detailed articles, YouTube videos, chat support, and an easy way to generate tickets to get your issues resolved.
Multiple Payment Options: One of these new GuardsPro updates now also allows you to add multiple cards under the payment method tab in the account section for more convenience.
SMS Notifications: If the mobile number linked with the account is not verified, the SMS notification option will automatically be disabled. To receive SMS notifications, do not forget to verify the mobile number linked to your GuardsPro account.
Guard Registration: To further make it easy for security guards to register from the web, a registration link is also now available on the GuardsPro guard web portal. If they register themselves using this link, they'll have to verify both their email ID and mobile number using the OTP.
But when they click the link to register from their mobile phone, the phone number is automatically verified. Similarly, when the security guards open the registration link from their email, the email ID is automatically verified.
Other Updates: The back-office users can now view the exact time when a client, post site, and guard were added under the overview/profile page of the GuardsPro guard tour system.
All back-office users can update their email by sending a confirmation email to the current email and clicking on a link to confirm the email.
Mobile App Updates: Tools To Help Guards Find Focus

Vehicle Patrol: The new Vehicle Patrol feature allows security guards to conduct vehicle patrol based on predefined routes. Further, new features that make it easy for your security guards to patrol include:
All the hits completed by a security guard are automatically synced to all the other guards assigned on the same site for better clarity if the setting is enabled on the dashboard.

The vehicle patrol module on the GuardsPro guard mobile app

 now shows the date range and days for the guards to know when they have to conduct the vehicle patrol. Thus, allowing the guard to start the route only on the defined days and times and defined date range.

A search option has been added in the main route screen and route in progress for the security guards to search the post site hassle-free.

On the same route screen, the security guards can now view the map on a full screen to concentrate only on patrolling. The security guard can now also hide or show the map button on the route progress screen.

If the setting to clock in before starting the route is on, the security guards must clock in all post sites of these routes. 

If the guard is not clocked in, then he will be asked to clock in right there without taking him to the time clock screen. The same is also applicable when the route has already started, but the guard is not clocked in.
Scheduler: The guard can now offer a confirmed shift to another guard as well as view daily/weekly/monthly confirmed, unconfirmed, and open shifts right after logging in to the app.
Day And Time Format: The guard can now decide which format to choose from – 12 hours or 24 hours to patrol without any confusion and see the day in front of the date on every screen.
Autosave drafts: All reports now have an autosave feature that automatically saves the draft while the guard is typing and patrolling the client site.
Tour tag icons: All the tour tags are now displayed on the post-site map for security guards to view hassle-free.
Geofence: If there's a geofence created for a post site on the live map, from now on it will be visible to the security guards logged in to that site on the GuardsPro mobile app. The guards are also now not required to clock out within the geofence with a few changes in the web settings.
Dark Mode: Your guards can now change their app setting to dark mode as per their requirements.
Low Battery Alert: If the security guard's battery is 20% or low, a low battery alert will be sent to the admin to ensure the admin can alert the guard to charge his device to keep patrolling.
Geofence Improvements: Now we have the two geofence settings based on vehicle patrol and post-site settings to auto check-in/out. If your guard has started a vehicle route and both of the above-mentioned settings are on, the geofence will work only for the vehicle route started by the guards. If no vehicle route is in progress, then it will work only for the standard post sites.
Client Web Portal Update
Reports: With major updates in the vehicle patrol module of both the back-office dashboard and guard mobile app, we've added vehicle patrol reports in the web portal for your clients to view hassle-free.

Bottom line: Streamline Security Services Unlike Before
GuardsPro is committed to building the world's best security guard management software, and this update takes it even further with brand-new ways to navigate and streamline your security guard services. 
Using this version of the GuardsPro guard tour system, you will experience significantly enhanced features and dozens of tweaks and changes. For more information, please visit us at guardspro.com, even better to experience this update first-hand, sign up for a 30-day free trial to get started now.
We can't wait to keep building with you in '23!